Shop the collections or contact me to design your custom piece.
Click here to learn more about the inspiration behind each piece
Jewelry is A Piece of Your Heart
Whether it's a fun piece to show your own taste and style, a cherished strand of pearls from your grandmother, a locket you received when your first child was born, a bracelet that you and your sisters all have alike or a memorial piece to always care a part of someone you love and have lost with you, jewelry calls up memories and with it, a piece of your heart.  Each piece of handmade jewelry or decor created at WV3 Designs is a labor of love and includes a peace of my heart. Whether you are searching for a unique new piece to liven up your wardrobe, a way to honor someone you've lost, or that perfect piece for your wedding, you'll find just the right thing here.  if you don't find the perfect fit, contact me to create it for you.
Stones, crystals and metals have been used for healing for centuries.  Learn more about their actual properties, traditional uses & the extraordinary power they are believed to possess.
Follow the Journey
Follow the creation process.  Each pieces has it's own story.  Learn more about the inspiration and the stories behind some of our designs.
Care & Style Tips
Inspiration for your wardrobe, color and style combinations.  Care on caring for your jewelry to ensure it last a lifetime and beyond.
Inspiration For Life
Life gets crazy.  Sometimes we need a lift and a reminder of what is really important.  Quotes, inspirational stories and more.
Alternative Birthstones Options If I asked you what your birthstone is, you could probably tell me.  After all, it's "your" stone.  You feel a special connection to it.  But what if you just don't connect with that stone?  Maybe it's not your color or something else...
read more
Opal is the birthstone for October, but it is also an alternative birthstone for April.  It is known as the "eye stone".   So pleasing to the eye; it inspires love, hope, luck and happiness.  In the ancient world, it was considered the most mysterious stone and...
read more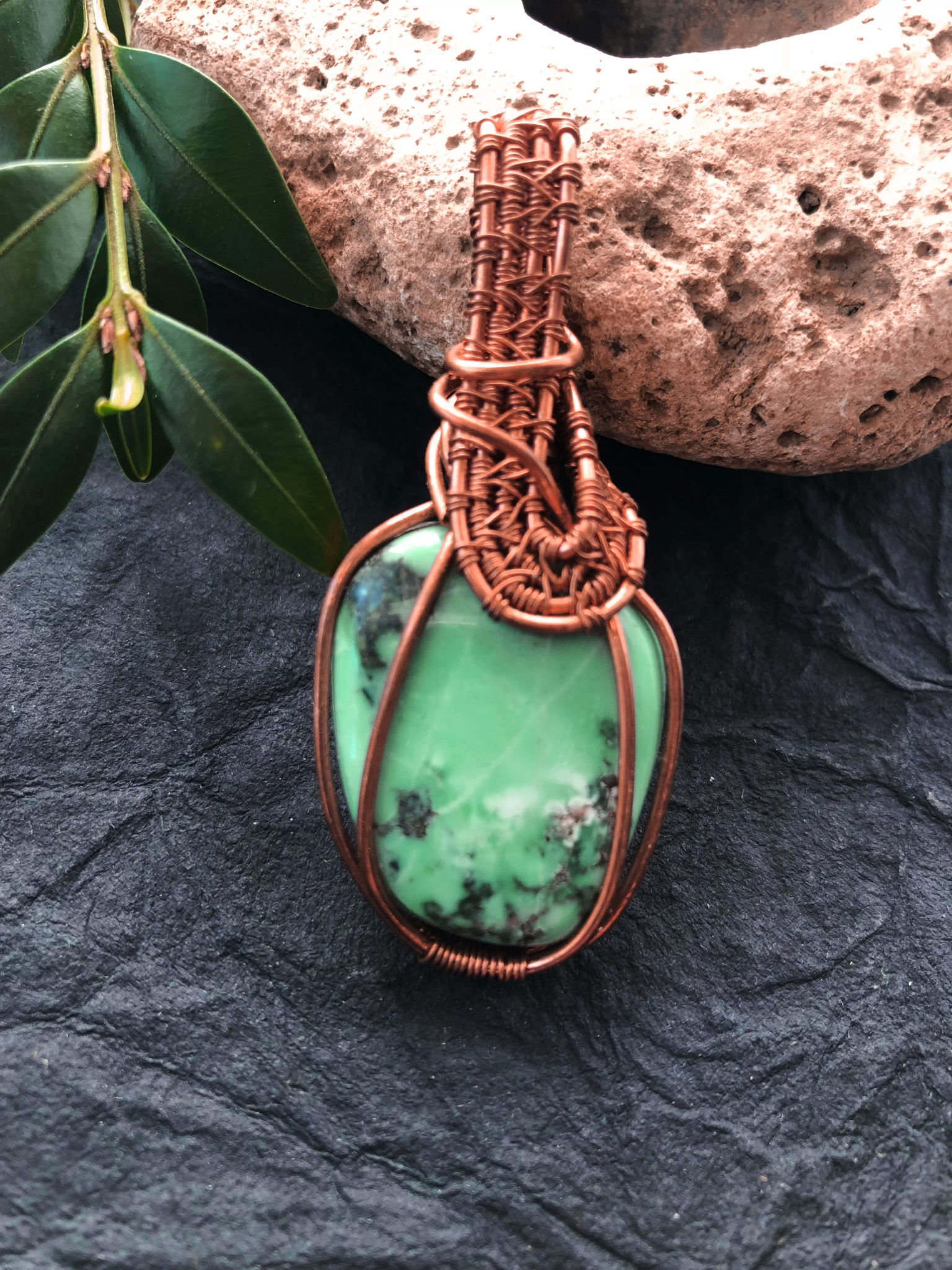 Most wire wrapped  and wire weaved pieces are created using materials that come from the earth.  Semi-precious stones, 100% copper, sterling silver and other natural materials make each piece unique.
Show off your fun side with an artistic, nature-inspired, and playful combination of materials and textures.  Boho style goes from the office to a casual trip to town to a relaxing day exploring out of the way places.
Your wedding accessories should be as unique as you.  Instead of some mass produced pieces that everyone has, your jewelry should reflect your own style and be custom made just for you.
Inspired by vintage pieces, the southwestern style collection includes works in turquoise, coral, arrowheads, silver and copper.
Losing someone you love is something you never "get over".  Honoring them with a accessory custom made with a special stone or in their favorite color is a way to keep them with you wherever you go.  Each piecs is lovingly made with your loved one in mind and inspired by the loss of my son.
Handmade crosses & rosaries.  Each cross is handmade & hand forged from sterling silver.  Chains are hand connected using stainless steel for strength, with your choice of semi-precious stone.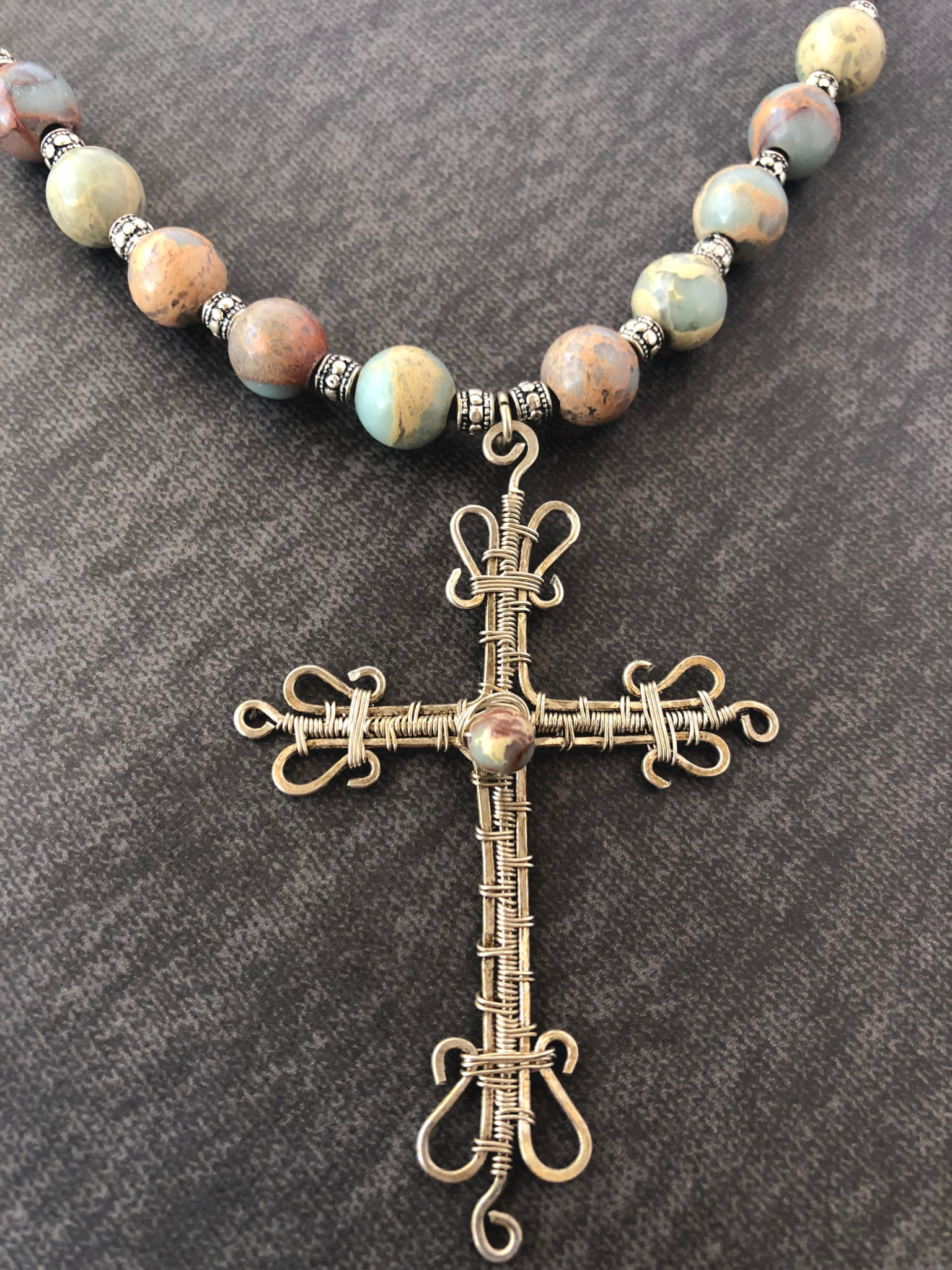 Have your own WV3 Designs creation?  

We'd love to know what you think.
Everyone's style & taste are different.  We want to know more about your story, what's important to you.  You become part of the design process.  Your piece sould be a unique as you are.